---
Main content
Top content
Good reasons to study Information Systems at the Osnabrück University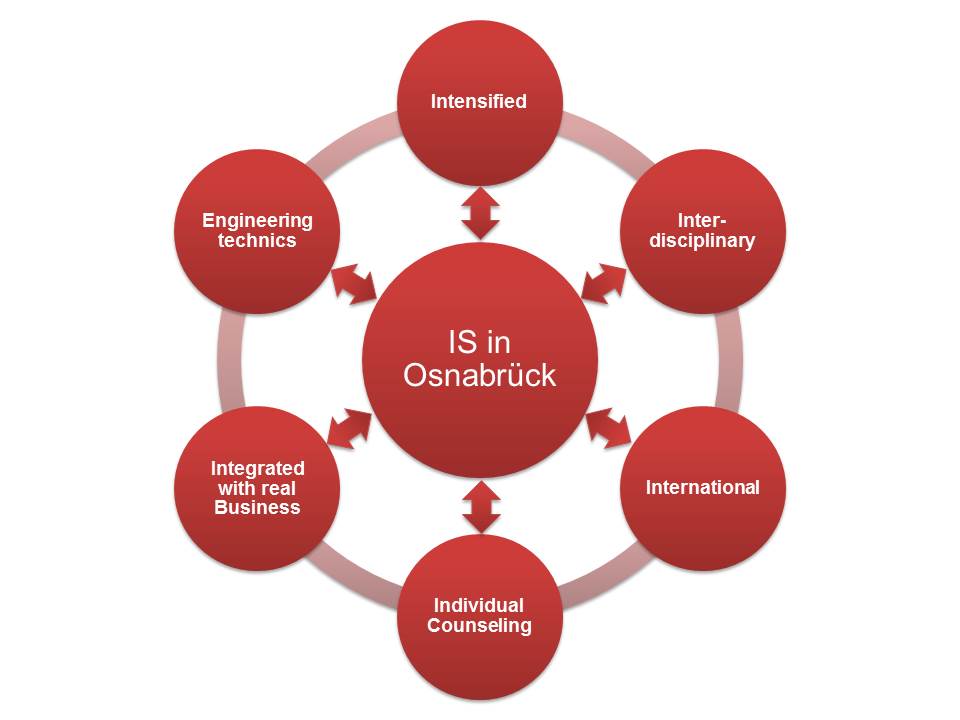 The intensive program of Bachelor and Master in information systems is organized by the institute. The programs are in Germany the only intensive once. Students are guided in only four years and three months to reach the final grade in Master of Science. There are six good reasons (five Is and one E) why to study Information Systems at the Osnabrück University:
Intensified
Enabled by a keen curriculum, a limit in freshmen admissions to 25 per year and an extremely well organized advising/counseling service our Bachelor's program conveys an additional 20% of contents compared with other Information Systems programs. Following their degree in our intensified Bachelor's program students are able to finish tehir Master's degree in Information Systems at the University of osnabrueck within 15 months only. Thus the total time needed for a Master's degree decreases to 4 years.
Interdisciplinary
Information Systems as an academic discipline integrates research fields of business and economics, computer science and law. Thus the program offers a lot of variety and proves to be of high interest for a diverse group of students. During both, the Bachelor's and the Master's program we focus on the application of IT-related methods to real-life business environments by integrating theoretical with practical courses.
International

All exams are easily transferable to other universities since we employed the European Credit Tranfer System (ECTS). The Bachelor's program includes a mandatory exchange term in the 3rd year of studies which can be spend at renowned partner universities all over the world and is intensively supported by our student advisor. Both study programs (Bachelor and Master) include lectures in English language.
Individual Counseling
Individual advising and counseling is a central idea of our programs. Admissions are limited to 25 students per year which enables teaching and learning in small groups and secures optimal mentoring. A student advisor is exclusively coping with Information Systems students and is available for all questions and problems.
Integrated with real business

The programs are practice-oriented and the knowledge of our graduates is well-known to regional and national companies. Lectures and seminars are organized in cooperation with our industry partners very often and students are required to finish a group project at regional companies within the two semesters of their Master's studies. The integration with real business proves to be more interesting as traditional learning concepts and boosts several soft-skills students will need in their future career. Most of our students conduct research for their final theses in cooperation with regional or national companies.