---
Hauptinhalt
Topinformationen
Katharina Hembach, M.Sc.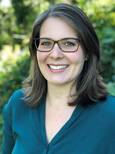 Ph.D. Candidate
Institute of Environmental Systems Research
Dept. of Environmental Economics
Room: 66/E22
Barbarastraße 12
49076 Osnabrück
Tel.: +49 541 969-2371
Fax: +49 541 969-2599
katharina.hembach@uni-osnabrück.de
Further Information
Research Interests
Behavioural and Experimental Economics, Environmental and Natural Resource Economics, Natural Resource Management
Biography
Katharina is PhD candidate with a background in economics working in the group "Behavioral and Experimental Economics for the Environment". During her previous studies, she specialised in behavioural and experimental economics, gaining experience with experimental methods used in lab experiments. Her current research focuses on the impacts of ecosystem dynamics on human cooperative behaviour. She wants to examine how approaching regime shifts in ecological systems influence the human exploitation of natural resources. The aim is to improve policy designs that promote integrated resource management strategies.