---
Main content
Top content
Prof. Steve Humphrey, Ph.D.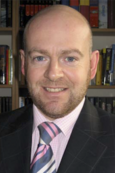 Room: 29/101
Rolandstraße 8
49069 Osnabrück
Tel.: +49 541 969-2725
Fax: +49 541 969-2705
steve.humphrey@uni-osnabrueck.de
office hour: by arrangement
Further Information
Research Interests
Behavioural economics, choice under risk, social dilemmas, experimental methods and microeconomic theory
Biography
Steve Humphrey was a graduate student in experimental economics at The University of East Anglia before joining the University of Nottingham as Lecturer and then Associate Professor in Economics in 1995. Since 2008 he has been Professor of Mikroökonomik insbes. Informationsökonomik at the University of Osnabrück. Steve's research interests are theoretical and empirical and are mainly in using controlled laboratory experiments to investigate economic decision-making under risk and strategic risk. He has published his research in; inter alia, Economica, The Economic Journal, Economics Letters, European Economic Review, Journal of African Economies, Journal of Economic Behavior and Organization, Journal of Economic Psychology, Journal of Risk and Uncertainty and Theory and Decision.
Steve is Member of the Editorial Board of the Journal of Economic Psychology and External Research Fellow at the Centre for Decision Research and Experimental Economics. He also is part of the directorate of the LaER. group.